A Leadership Symposium | Featuring...Spotlight on Screw-ups
We're going to explore the F word...Okay, not that F word – the other one, 'Failure'. Any worthwhile effort in pursuing your dreams will more often than not result in making mistakes or defeat. In fact, failure can be an indicator that you're discovering capabilities while being presented with an opportunity to go beyond your limitations. At the NAAAP Toronto Spotlight on Screw-Ups, messing up and failing is celebrated. Join us with a panel of some who have grinded their way through, some who are still a work in progress and some who will share insightful experiences. Through it all, you'll learn to realize and appreciate your worth while respecting yourself more.
At the conclusion of the panel, an open mic segment will invite audience participation who will also have an opportunity to briefly share their own story of breakthrough and resilience.
Introducing special guest panelists..
| | |
| --- | --- |
| | Nicholas To, CPA, CMA, CIRP, is a Licensed Insolvency Trustee at Hoyes, Michalos & Associates Inc. He takes pride in providing personalized debt relief solutions to individuals and families struggling with overwhelming debt. Nicholas previously worked at Grant Thornton LLP, a leading Canadian accounting and business advisory firm, specifically in the firm's corporate restructuring practice. He is an active member in the local business community and is a Director and Vice President, Programs, at the Association of Chinese Canadian Entrepreneurs. |

Joseph M. Luk, P.Eng. is a seasoned sales and marketing leader in the Information, Communications and Technology sector with over 25 years of experience in various senior management, solution marketing, complex deal management, strategic pricing and direct B2B sales roles. Joseph has held director and senior management positions at Bell Canada, Zayo/Allstream, Huawei Technologies, and Empowered Networks.

Joseph is a mentor and coach to business colleagues in and outside of work. Joseph regularly guest lectures at Humber College for the Global Business Management Program on career change and employment strategies and serves on the advisory board of the Humber College IT Infrastructure Bridging Program.

Tuesday, April 24, 2018; 6:30pm

461 King St West, Toronto ON M5V 1K4
Website | Tel: (416) 979-5464

NAAAP Members: $5.00 (with available promocode)
Non-members in Advance: $15.00 (At the door: $20.00)
Complimentary hors-d'oeuvres served

Attire: Business or Business Casual

Remember to bring lots of business cards!
REGISTER ONLINE by or before Monday, April 23, 11:59pm
NAAAP Toronto's signature Leadership Symposiums coupled with an evening mixer segment are designed to be your professional community forum. Enjoy lively conversation, build new contacts and get re-acquainted with old ones at some of Toronto's most popular evening hot spots.
Inquiries & Questions: mandy.tse@naaaptoronto.org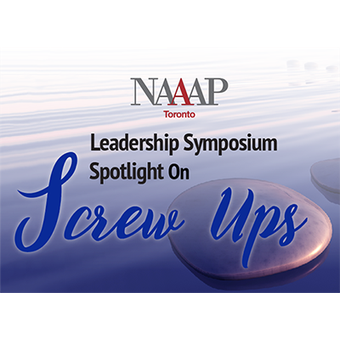 461 King St W, Toronto, ON M5V 1K4, Canada